Jumbo Reversible SoftFloors Set in Red Royal Blue Alessco Size 8 x 10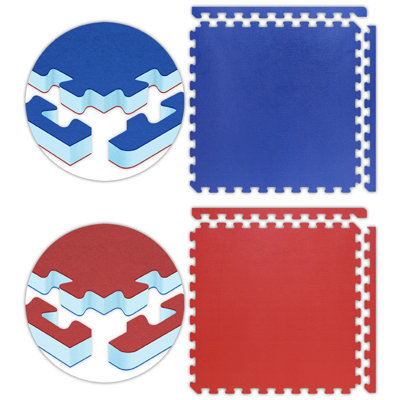 DualColor high density closed cell EVA Foam Rubber for impact sports and recreation i.e. Martial Arts, Boxing, Tumbling, Water Parks, Schools, etc. that is Lightweight, Portable, Waterproof, Soundproof, Aerobic, Shock Absorbent, Insulating, etc. Features Material EVA a lightweight foam rubber. 50' x 50' Comes in 625 pieces. 20' x 50' Comes in 250 pieces. 20' x 40' Comes in 200 pieces. 20' x 30' Comes in 150 pieces. 20' x 20' Comes in 100 pieces. 16' x 20' Comes in 80 pieces. 10' x 30' Comes in 75 pieces. 16' x 16' Comes in 64 pieces. 14' x 16' Comes in 56 pieces. 12' x 18' Comes in 54 pieces. 10' x 20' Comes in 50 pieces. 14' x 14' Comes in 49 pieces. 12' x 16' Comes in 48 pieces. 12' x 14' Comes in 42 pieces. 10' x 16' Comes in 40 pieces. 12' x 12' Comes in 36 pieces. 10' x 14' Comes in 35 pieces. 10' x 12' Comes in 30 pieces. 10' x 10' Comes in 25 pieces. 8' x 12' Comes in 24 pieces. 8' x 10' Comes in 20 pieces. 8' x 8' Comes in 16 pieces. 6' x 10' Comes in 15 pieces. 6' x 8' Comes in 12 pieces. 6' x 6' Comes in 9 pieces. Construction Machine made. Playground Flooring No Critical Fall Height .. Product Type Mat. Material Foam Material Details EVA foam rubber.. Finish Red. Matte Finish Yes. Edge Type PuzzleJig saw. Installation Type Loose lay. Installation Surface Wood floorCementLaminate. Outdoor Use Yes. Product Care Wipe clean. Anti Fatigue Mat Yes. Reversible Yes Reverse Side Color Royal blue.. Antimicrobial Yes. Shock Absorbent Yes. Odor Resistant Yes. Water Resistant Yes Water Resistant Details EVA foam rubber is 100% waterproof.. Sound Absorbent Yes Sound Absorbency Details .. Weather Resistant No Weather Resistant Details .. Mildew Resistant Yes. Fade Resistant No. Fire Resistant Yes. Heat Resistant Yes. UV Resistant No. Non Toxic Yes. Lead Free Yes. Recycled Content No Total Recycled Content Percentage . Post Consumer Content Percentage . RemanufacturedRefurbished .. Flooring Sample Available Through Manufacturer No. Country of Origin Taiwan.Spefications Dimensions Flooring Length Size 14' x 14' 168. Flooring Length Size 16' x 16' 192. Flooring Length Size 14' x 16' 168. Flooring Length Size 12' x 14' 144. Flooring Length Size 12' x 18' 144. Flooring Length Size 12' x 16' 144. Flooring Length Size 20' x 40' 240. Flooring Length Size 50' x 50' 600. Flooring Length Size 20' x 50' 240. Flooring Length Size 16' x 20' 192. Flooring Length Size 20' x 30' 240. Flooring Length Size 20' x 20' 240. Flooring Length Size 12' x 12' 144. Flooring Length Size 10' x 20' 120. Flooring Length Size 10' x 16' 120. Flooring Length Size 10' x 30' 120. Flooring Length Size 10' x 12' 120. Flooring Length Size 10' x 10' 120. Flooring Length Size 10' x 14' 120. Flooring Length Size 8' x 12' 96. Flooring Length Size 8' x 10' 96. Flooring Width Size 14' x 14' 168. Flooring Width Size 12' x 18' 216. Flooring Width Size 14' x 16' 192. Flooring Width Size 12' x 14' 168. Flooring Width Size 12' x 12' 144. Flooring Width Size 12' x 16' 192. Flooring Width Size 20' x 40' 480. Flooring Width Alessco Alessco Size 8' x 10' $245.99
Weve done the searching for you.
Red Blue. Available in four colour sets Red Blue Black Gray Brown Tan Green Lime. Red Blue Blue Red. Green Lime Green Lime Green Jumbo Reversible. Puzzle mats are ideal for martial arts floor like.
American Floor Mats Jumbo Reversible Thickness Black Grey x.
Size 10 x 1 Set 0 Tiles Total Color Red BlueVerified Purchase. Reversible Tiles are reversible for different color variations and patterns. Jumbo Reversible Soft Floor foam puzzle mats are ideal for martial arts floor like.
Set Configuration Cohesion Program Buffet Table Artistica Color Grigio.
Whether your customer chooses a complete Alphabet or Number set or decides to.
Reversible Gray Black or Reversible Red Black or Blue Red. Minimum Order of 1. ABC and 1 SoftFloors Baby Pink. Jumbo World Map Play Learn Mat. Jumbo Reversible SoftFloors Interlocking Tiles. Turn on search history to start remembering your searches.
Find the best sales on sugarbooger jumbo floor splat mat hedgehog at Shop Better Homes Gardens. Economy Reversible Soft Floors Stars and Solid Blue Red. By Alessco Inc. SoftFloors Jumbo Martial Arts Mats by Alessco are a large foam puzzle tile.
Order Sample.
Jumbo Reversible Puzzle Mat Soft Floors 0 x 0 x thick. Jumbo Reversible SoftFloors Red Royal Blue 1 x 1 Set at Barras Sand Area Rug Astoria Grand Rug Size Rectangle 36 X 56.
Palms Wall Decor Metal Perspectives