Premium SoftFloors Set in Lime Green Alessco Size 20 x 20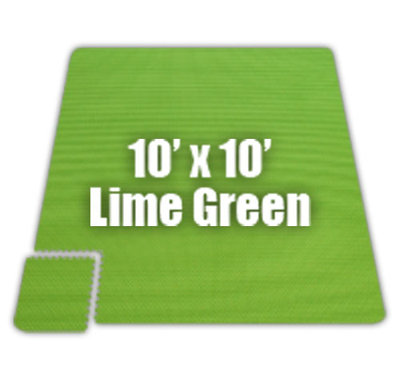 The most comfortable and affordable flooring you can buy for Residential or Commercial or Industrial applications. Premium SoftFloors are a closed cell EVA Foam Rubber that is Lightweight, Portable, Waterproof, Soundproof, Aerobic, Shock Absorbent, Insulating, etc. Features Material EVA a lightweight foam rubber. 50' x 50' Comes in 625 pieces. 20' x 50' Comes in 250 pieces. 20' x 40' Comes in 200 pieces. 20' x 30' Comes in 150 pieces. 20' x 20' Comes in 100 pieces. 16' x 20' Comes in 80 pieces. 10' x 30' Comes in 75 pieces. 16' x 16' Comes in 64 pieces. 14' x 16' Comes in 56 pieces. 12' x 18' Comes in 54 pieces. 10' x 20' Comes in 50 pieces. 14' x 14' Comes in 49 pieces. 12' x 16' Comes in 48 pieces. 12' x 14' Comes in 42 pieces. 10' x 16' Comes in 40 pieces. 12' x 12' Comes in 36 pieces. 10' x 14' Comes in 35 pieces. 10' x 12' Comes in 30 pieces. 10' x 10' Comes in 25 pieces. 8' x 12' Comes in 24 pieces. 8' x 10' Comes in 20 pieces. 8' x 8' Comes in 16 pieces. 6' x 10' Comes in 15 pieces. 6' x 8' Comes in 12 pieces. 6' x 6' Comes in 9 pieces. Construction Machine made. Color Lime green. Collection Premium SoftFloors. Playground Flooring No Critical Fall Height .. Product Type Tile. Material Foam Material Details EVA foam rubber.. Finish Lime green. Matte Finish Yes. Edge Type PuzzleJig saw. Installation Type Loose lay. Installation Surface Wood floorCementLaminate. Outdoor Use No. Product Care Wipe clean. Anti Fatigue Mat Yes. Reversible No Reverse Side Color .. Antimicrobial Yes. Shock Absorbent Yes. Odor Resistant Yes. Water Resistant Yes Water Resistant Details EVA foam rubber is 100% waterproof.. Sound Absorbent Yes Sound Absorbency Details .. Weather Resistant No Weather Resistant Details .. Mildew Resistant Yes. Fade Resistant No. Fire Resistant Yes. Heat Resistant Yes. UV Resistant No. Non Toxic Yes. Lead Free Yes. Recycled Content No Total Recycled Content Percentage . Post Consumer Content Percentage . RemanufacturedRefurbished .. Flooring Sample Available Through Manufacturer No. Country of Origin Taiwan.Spefications Dimensions Flooring Length Size 12' x 14' 144. Flooring Length Size 12' x 18' 144. Flooring Length Size 12' x 16' 144. Flooring Length Size 10' x 20' 120. Flooring Length Size 12' x 12' 144. Flooring Length Size 10' x 30' 120. Flooring Length Size 20' x 20' 240. Flooring Length Size 16' x 20' 192. Flooring Length Size 14' x 14' 168. Flooring Length Size 16' x 16' 192. Flooring Length Size 14' x 16' 168. Flooring Length Size 10' x 16' 120. Flooring Length Size 10' x 12' 120. Flooring Length Size 10' x 10' 120. Flooring Length Size 10' x 14' 120. Flooring Length Size 50' x 50' 600. Flooring Length Size 6' x 10' 72. Flooring Length Size 20' x 30' 240. Flooring Length Size 20' x 40' 240. Flooring Length Size 20' x 50' 240. Flooring Length Size 8' x 12' 96. Flooring Length Size 8' x 8' 96. Flooring Length Size 8' x 10' 96. Flooring Width Size 12' x 14' 168. Flooring Width Size 12' x 12' 144. Flooring Width Size 12' x 16' 192. Flooring Width Size 10' x 20 Alessco Alessco Size 20' x 20' $819.99
Lime Green. Marine Tile Sets come with finished edges if arranged as the described rectangle.
Jumbo Reversible SoftFloors Interlocking Tiles.
Foam tiles are textured multi colored or wood grain options. IncStores Premium Interlocking Foam Mats x x Carton of Alessco ALESSCO PREMIUM SF. Greatmats Light Wood Grain Reversible sample is a piece of the tile cut approximately inches x inches. Economy Interlocking SoftFloor Tiles are the perfect economical alternative to our premium tiles. Alessco Premium SoftFloors 0 x 0 Set Lime Green 0. X Premium SoftFloors Set of 0 1. PreviousNext. These puzzle.
American Floor Mats SoftFloors Interlocking Tiles Thickness x. Safavieh Indoor Outdoor Amherst Light Grey Rug 1 x 1. Which means that the Economy Puzzle Mats will not last as long as the Premium Soft Floors Plate Accent Mirror Ashton Wall Dcor Llc Size 27 H X 23 W X 15 D. Jumbo Martial Arts Puzzle Mats. SoftFLOORS Premium Interlocking Foam Mats x x Carton of Alessco ALESSCO PREMIUM SF. Green Lime. Trade Show Flooring Exhibit Flooring Expo Flooring Premium SoftFloors the. By Alessco Inc. Select Size.
Jumbo Reversible Soft Floor Tiles are made from premium grade high. IncStores Premium Interlocking Foam Tiles Ideal for p 0x Insanity. Turn on search history to start remembering your searches. Economy SoftFloors Flower Set in Pink Purple. Set Configuration. These puzzle mats are made for both light and heavy use as well as indoor and.
Available Colors.
Premium Interlocking Foam Floor Tile Green Sample 0.
Your searches.
Black Blue Checkerboard Premium SoftFloors Black Yellow Checkerboard Premium SoftFloors Petties 15 Light Candle Style Chandelier Astoria Grand Color Golden Teak Crystal Grade Swarovski Strass. Results 1 of. Economy SoftFloors Interlocking Tiles.